It's true that the future is mostly unknowable. But after a year in which everyone has grappled with what's been a seemingly never-ending experiment in adaptation, one thing is certain. Being agile, makes change easier. The challenge we wanted to address was how to help organisations transform their remote 'experiment' into a more permanent and efficient mode of work by enabling the acquisition of core agile knowledge on a larger scale.
Opening a new frontier to the fundamentals of agile
We're pleased to announce a partnership with the leader in vocational learning, Open Colleges, on an online 'Introduction to Agile' short course. Developed by our real-world agility experts, the self-paced course can be studied intensively over a day and provides the skills, knowledge and tools to adopt both an agile mindset and new ways of working, in any professional context. 
While agile was once limited to technology professionals, now a wider range of businesses and skill sets are adopting agile ways of working to maximise their outcomes from tertiary education to financial services, telecommunications and professional services. Agility has become recognised as the new operating model for many larger organisations in Australia and overseas.
With three months to complete the course study can be done when it's convenient – intensively or over an extended period – and it's a cost-effective way to start the agile journey for individuals looking to upskill. Organisations are also adding the agile module to their internal learning and development programs, to ensure both new starters and long-termers understand and positively contribute to an agility-driven company culture.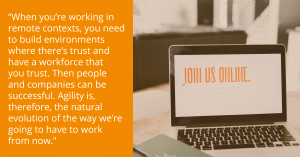 According to Sarah Rose, GM of our Training Academy, "we've taken experiences that we usually offer in our face-to-face training and re-imagined them in an online world. You get a lot of time to read content, participate in online quizzes, do exercises, or do online reflection. That delivers a much richer, deeper experience and we feel that even though it's a basic look at agility, it covers everything from mindset through to practices that can be brought to the table in your own organisation." 
Open Colleges hadn't previously offered an agility course, so by partnering with our Academy—one of the only training organisations in Australia to offer certified courses from Scrum.org, Scaled Agile, LeanKanban University and Management 3.0—together we're uniquely positioned to provide training that brings real world examples to life, for both large and small organisations.
Self-serve flexibility
One of the other benefits of this approach is that it allows the learner to maintain control over the time, place, path, or pace of their course.
The flexible format helps us to personalise the learning – they get the benefit of individualised support and direction, with access to other resources that they could learn or read on their own, outside of class.
By combining the best aspects of technology-based eLearning methods and tools, it broadens the experience, supports the flexibility of anytime, anywhere learning and reshapes the role of the teacher – so they interact more deeply.
Flipping the classroom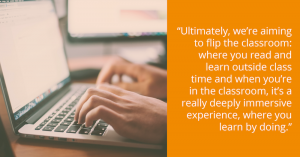 As Satya Nadella, Microsoft's chief executive, recently said, "We've seen two years' worth of digital transformation in two months." Pandemic-forced remote-working and online education has opened opportunities to reimagine how workplaces and learning platforms function.
"We were already looking for ways to move into more blended learning programs, where we were using different modes of delivery – from face-to-face, to virtually led webinars, to a fully asynchronous learning platform – so COVID has accelerated those plans. Ultimately, we're aiming to flip the classroom: where you read and learn outside class time and when you're in the classroom, it's a really deeply immersive experience, where you learn by doing" Sarah said.
Next-gen agility 
History has shown us that world events like those of 2020, alter the rhythms of life and work and leave a legacy – where many things have changed. However, as Sarah noted, this time the fundamentals of agile working remain unchanged. "When you're working in remote contexts, you need to build environments where there's trust and have a workforce that you trust. Then people and companies can be successful. Agility is, therefore, the natural evolution of the way we're going to have to work from now." 
Opportunities like our new online Introduction to Agile course will give businesses and individuals new ways of thinking and simple models to use, that not only help them cope with change – but thrive.