Based on much research, community collaboration and feedback, the next evolution of SAFe – SAFe 6.0 – has been revealed! In this article, we will explore the 6 main themes.
Theme 1: Strengthening the foundation for business agility.
First and foremost, SAFe 6.0 has strengthened the foundation around Business Agility to improve support for working differently and building the future. Organisations that are successful in internalising the principles of business agility will be successful in changing the ways to work and thrive in the Digital Age.
Specifically, the Business Agility Value Stream has been added to the Big Picture, and the Continuous Learning Culture core competency has been added to the Foundation to ensure that regardless of the configuration of SAFe that you may be implementing, it will always include Continuous Learning Culture. In addition, there have been updates to the Lean-Agile mindset, SAFe core values, improved guidance around flow in SAFe Principle #6, and updates to the SAFe Implementation Roadmap.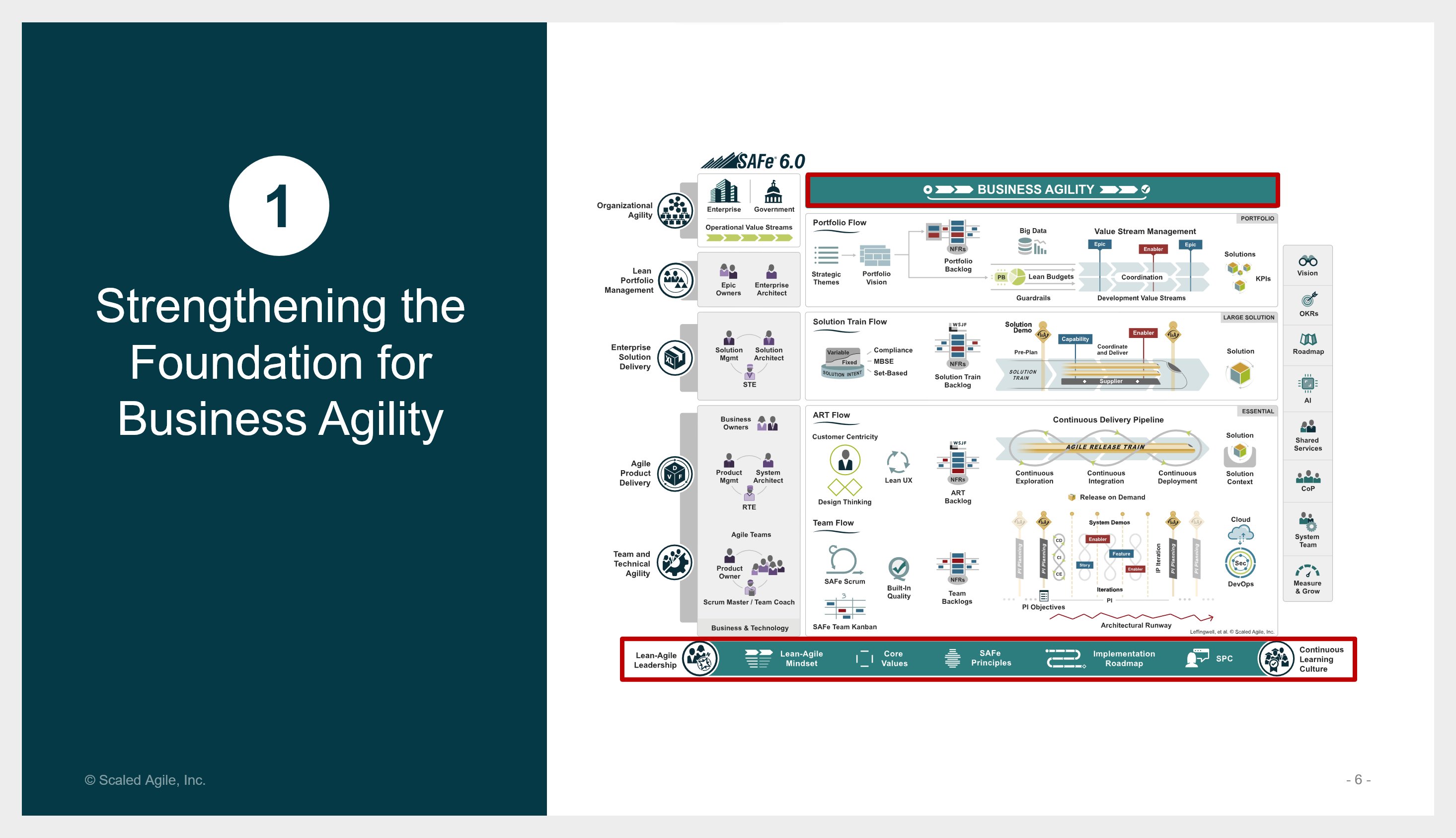 Theme 2: Empowering Teams and Clarifying Responsibilities
The second theme of this release is about empowering teams and clarifying responsibilities.  This new guidance helps to really identify the breadth of the various roles such as Release Train Engineer (RTE), Scrummaster (SM) etc.
Understanding the scope of a particular role is critical to success, especially when organisations are mapping traditional roles to Agile Ways of Working and SAFe.  Clearly, SAFe has heard the feedback and enhanced the guidance.  If organisations struggle to identify clear responsibilities for the roles, it will be difficult to reach the levels of excellence and quality. 
As an example, while a Scrummaster is a proper term for teams using Scrum it may be different when teams are using Kanban.  In Figure 2 the Responsibility Wheel helps to clarify areas which are critical while illustrating the role title can really be whatever fits the particular methodology being used or how the team wants to recognise the role.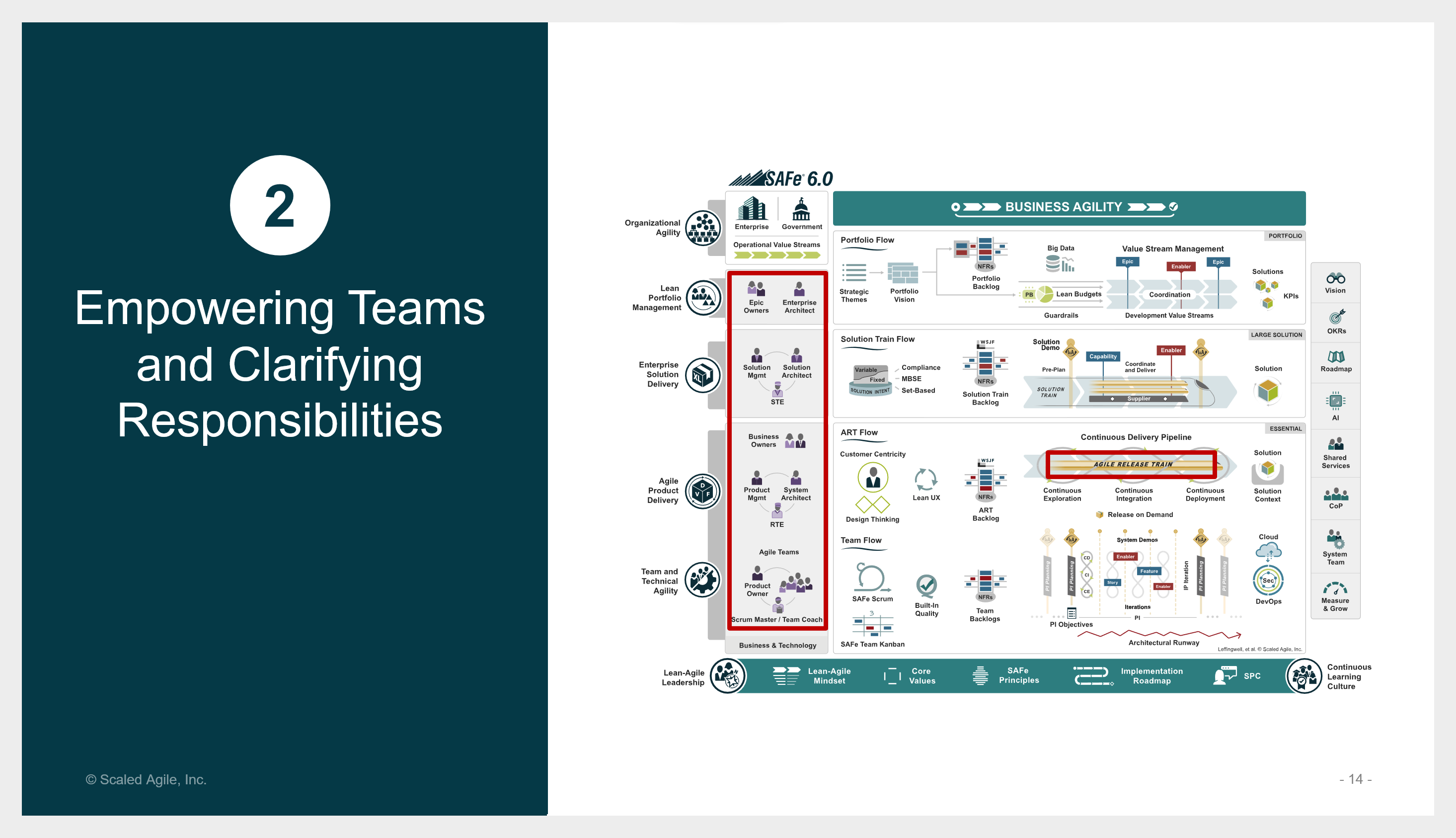 Theme 3: Accelerating Value Flow
The third and overarching theme in SAFe 6.0 is that of accelerating value flow. We see flow at every single level whether it is teams delivering stories or the ART delivering features or even epics moving through the portfolio. We also know that organisations can struggle sometimes to accelerate the flow of value and meet the needs of their customers.
Perhaps not surprisingly, SAFe's real-world research found commonalities when trying to accelerate flow through the stream. So SAFe 6.0 has highlighted the 8 commonalities as 'Flow Accelerators' which can be managed and measured. 
It begs the question, "How do we measure these properties and ultimately how accelerate them?" In this new version, you will see the tools at your disposal to understand, measure and improve flow at every single level.
And it's not just a pretty picture. There are extended articles describing each flow accelerator and the techniques needed to improve the quality of flow at multiple levels: Team, ART and Portfolio.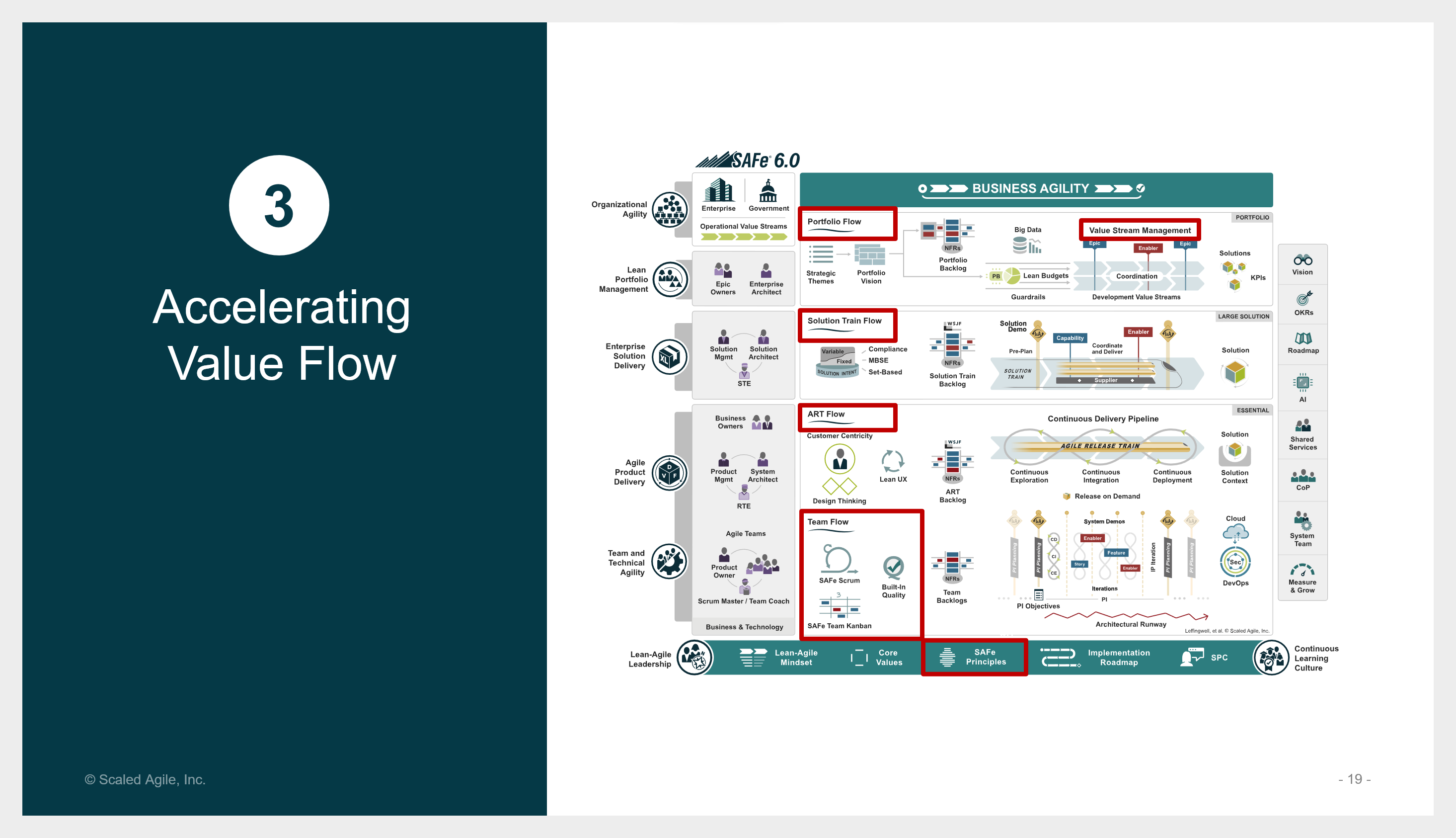 Theme 4: Enhancing Business Agility with SAFe across the Business
One of the most common questions asked when delivering a course is, "How can we involve other business functions like marketing, legal and HR?" The fourth theme in SAFe 6.0 articulates the terminology and taxonomy, the ways of working and offers examples of the 'how' to take these into the business and extend business agility in your enterprise.  Five patterns are called out:
Business-enabled ART, which includes business people on the ART

An Agile Business Train, which builds and operates the business solution

How to create an exemplary cross-functional Agile Executive Team with a Team Coach and Product Owner

Support for business functions like Marketing and Legal in adopting Agile Ways of Working.

A Combined portfolio, which includes both development and operational value streams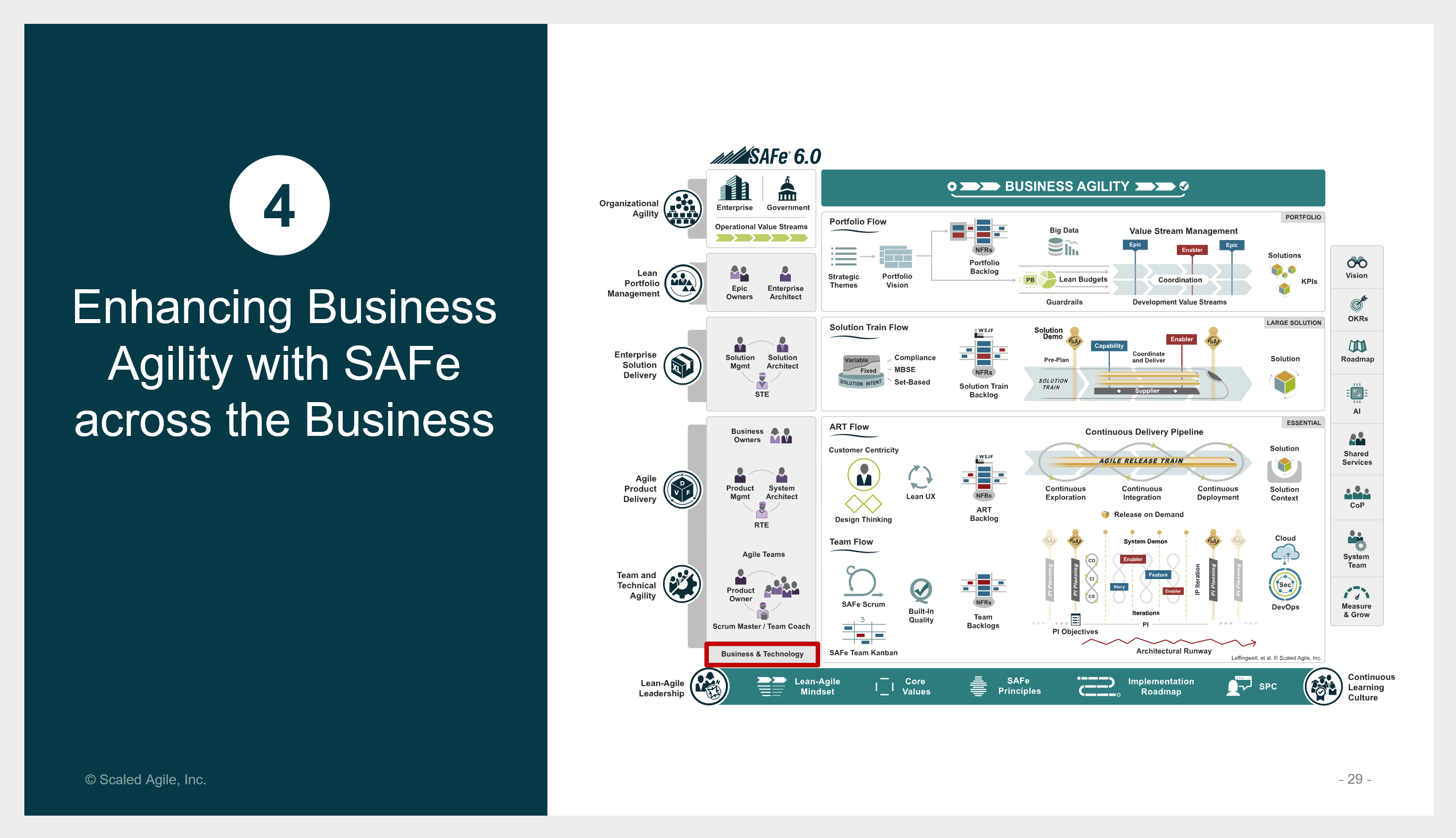 Theme 5: Building the Future with AI, Big Data and Cloud
The 5th theme in 6.0 offers new guidance on harnessing three innovative technologies that dramatically change the nature of software and systems development: AI, Big Data, and Cloud. Incredibly, in the last few months, things like ChatGPT and OpenAI have come to the forefront, which SAFe has masterfully incorporated into the guidance. Applying these technologies is becoming critical for competing now and in the future. 
How do you build business cases involving opportunities around AI? 
How do you create a big data function within your organisation? 
How do you develop the capabilities needed to take advantage of the Cloud?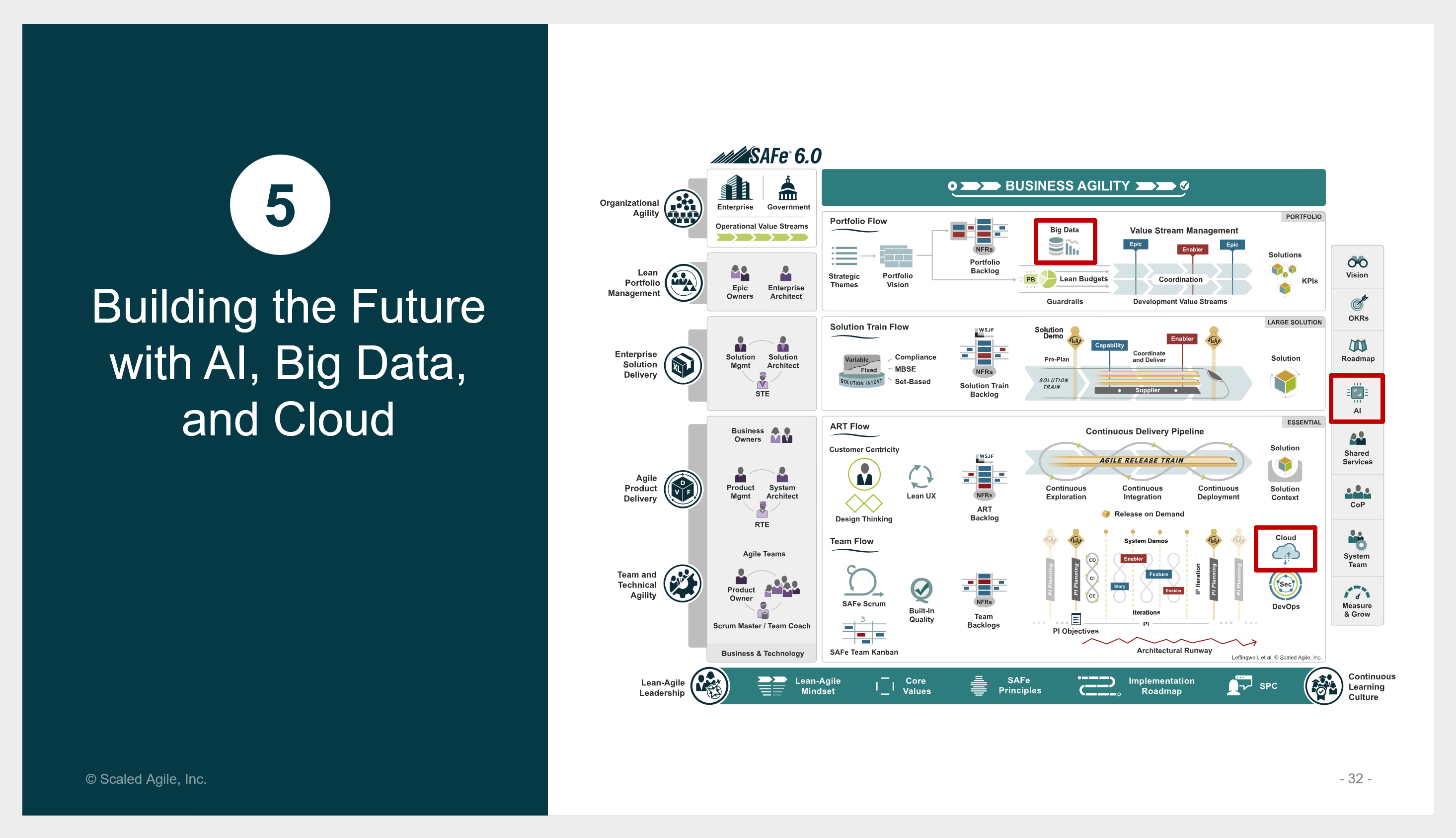 Theme 6: Delivering better outcomes with measure and grow and OKRs
Last, but certainly not least, is the 6th theme for this release: delivering better outcomes with Measure and Grow and OKRs.  Choosing what and how to measure is a critical enabler of continuously improving business performance. Organisations can measure whether they're achieving future strategy with OKRs utilising the three measurement domains shown in Figure 6.  And yes, the 4 SAFe values which are now better described as, Alignment – Transparency – Respect for People – Relentless Improvement, are amplified when your OKRs and PI Objectives share reflective intent.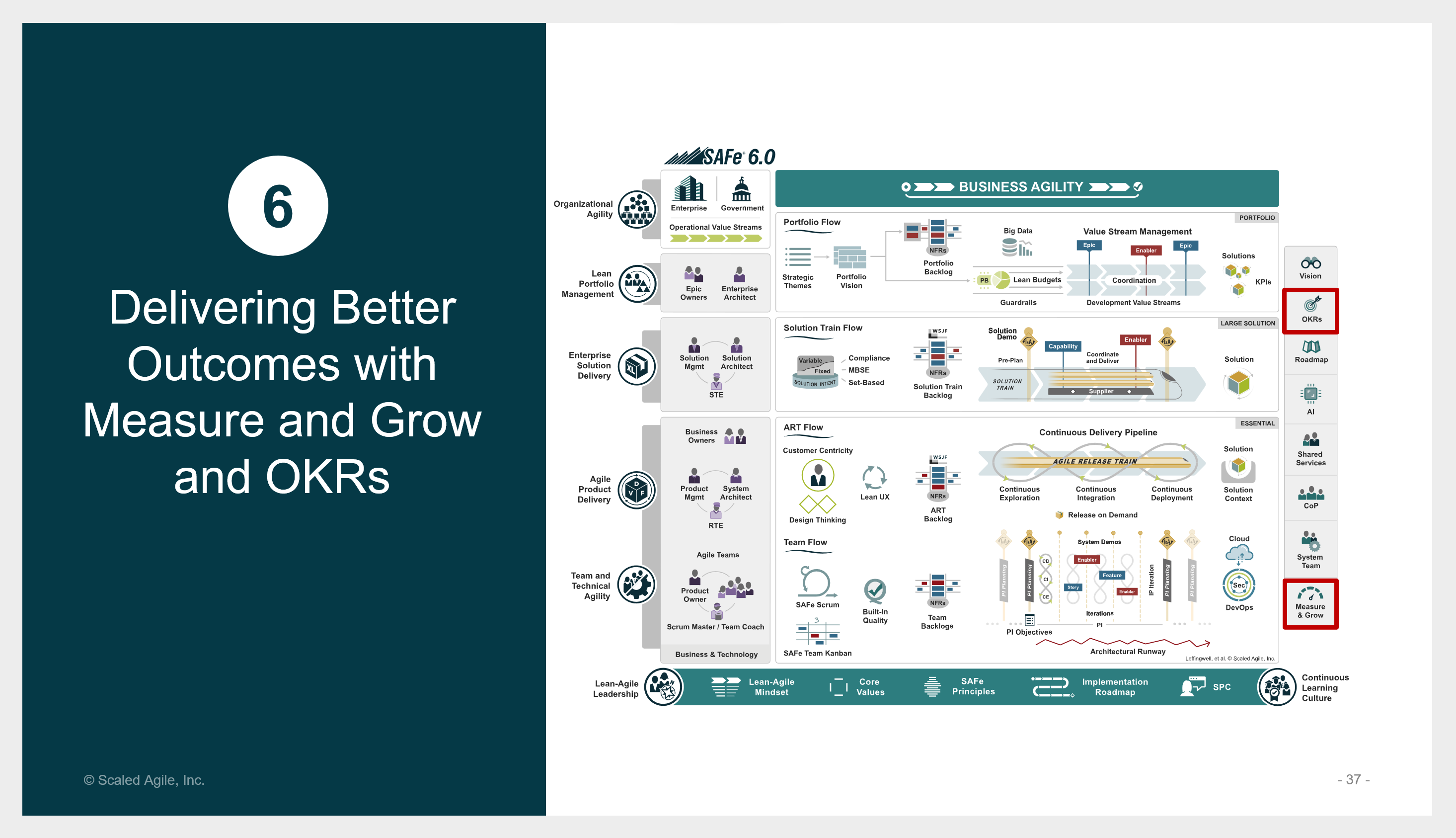 There is so much in this major release of SAFe 6.0; more than I can cover in this blog.  I encourage you to take a look at the new SAFe Big Picture and take in just how much SAFe has listened to feedback and collaboration from everyone over the last few years.  All these things come together, providing additional tools and resources you need to support a successful transformation.
Are you interested in being certified with the new SAFe 6.0?  Visit our Elabor8 Academy website.